DB / DC / Fully Insured
Plan Marketing Management
& Sales Presentation Platform
Advanced. Innovative. Effective.
Financial Technology:
What is PlanGen?
PlanGen is an SSL-secured, Tier III / ISO 27001-hosted, high-performance Internet web application providing innovative productivity, optimization and management features for national organizations and sales force networks. PlanGen delivers sophisticated, advanced-market defined contribution (DC), defined benefit (DB), fully insured Section 412(e)(3) and hybrid pension benefit plans and other illustrations to Advisors, Advisor networks and their prospective clients.
What is PlanGen's Purpose?
PlanGen was developed to radically reduce lead-time and expense in delivering customized, compliant, consistent, compelling, plan concept illustrations and presentations to clients. The capability to produce qualified plan designs was trapped on desktop applications or in proprietary actuarial systems, turning the gateway into a choke point in delivery to advisor networks.
PlanGen delivers a web based tool built to serve as a compliance gateway, provide advisor network management, activity monitoring and alerts, as well as generate presentation branding customization for multiple sales channels. PlanGen offers these next generation features in a scalable manner, and at more affordable pricing when compared to legacy methods.


What can plangen do for our company?
The PlanGen user account hierarchy can be configured to map to your organizational structure.


Flexible account permission structure from administrators to alias advisors.


Empower experienced support staff to deliver more to advisors and clients with less effort.


Presentation branding, co-branding and campaign theme alignment.


Reports and analytics on field force activity.


Get more proposals on the street, deliver ultra fast revisions, and install more plans.
Benefits of PlanGen
Reduce the cost of generating benefit plan concept illustrations by up to 98%.

Increase sales potentials while lowering costs.

Increase speed, consistency, reliability, compliance, monitoring and responsive delivery of illustrations & presentations to clients throughout the sales force.

Allow organizations to dramatically scale up the number of proposals on the street without increasing illustration staff. More proposals = more plans.

Convert user account costs to positive revenue streams for the enterprise while increasing the potential for increased product sales volume through more proposals per quarter.
The features, speed, management tools, activity analytics, ease-of-use and cost-efficiency of PlanGen are unique in the industry.
Reduce Illustration Costs By 98%.
*Can you generate a group term policy concept illustration with NAIC documents, forms, instructions, charts, graphs and tables for 8 participants, each requiring 3 policy illustrations (24 total life policies)... in UNDER 10 MINUTES ?
PlanGen Can.
The same effort with single-life illustration tools, copy-import-paste, charting tools, page layout tools, export-to-PDF conversions can take more than 7 hours**... for each revision!
** This data is from actual experience measurements of an agency using legacy techniques and then with PlanGen.
Proposals In Minutes.
Not Hours.
SINGLE PROPOSAL*
Legacy Systems
Minutes
450
9.5
(hours)
7.5
0.16
Rate/Hr

$

40.00

$40.00
Cost

$

300.00

$6.33
PlanGen Cost Compared To Legacy
2.1%
Multiple
Legacy
Legacy
PlanGen
PlanGen
Proposals
Hours
Cost
Hours
Cost
Savings
1

7.5

$300

0.16

$6

$294
5

37.5

$1,500

0.79

$32

$1,468
10

75.0

$3,000

1.58

$63

$2,937
50

375.0

$15,000

7.92

$317

$14,683
100

750.0

$30,000

15.83

$633

$29,367
200

1,500.0

$60,000

31.67

$1,267

$58,733
500

3,750.0

$150,000

79.17

$3,167

$146,833
<![if supportMisalignedColumns]>
Scale Efficiently.
Reduce Costs.
Illustrate More.

Enhance Consistency
Improve Response Time
Increase Client Satisfaction
Optimize Staffing & Effort Resources
Industry-Leading Capabilities
| Feature | | Legacy |
| --- | --- | --- |
| Secured, co-branded pdf illustration documents | | |
| Dynamic data, co-branded MS PowerPoint™ presentations | | |
| Customized, co-brandable: web sites, document & resource libraries, training materials & presentations | | |
| Professional web presence enhancement and social media linkages | | |
| Automated, SEO-friendly, professional advisor directory web pages | | |
| User account management | | |
| Plan & product privilege management | | |
| Case, Proposal & Login Usage analytics | | |
| Geodata user analytics w/ Designated Market Area (DMA) geography: "Where" activity is happening. | | |
| PGLeads™ Google map business search & lead list export | | |
| Digital request-for-proposals: direct to system w/instant email notifications. | | |
| E-commerce account subscription integration, custom pricing, activation & cancellation. | | |
Co-Branded,
Customized Outputs
Corporate Branding
Dynamic Contact Information
Instant, Secured PDF Outputs
Single-Page
Executive Summaries
Instant-Output PDF
Clear Information Delivery
Custom Corporate Co-Branding
Dynamic Agent Branding & Contact Information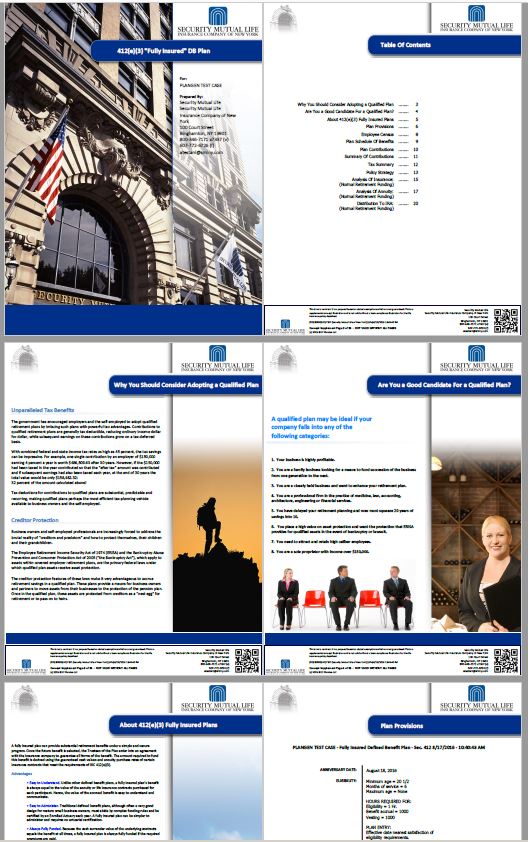 Compelling, Comprehensive Documents
Compliance-Approved
Instant, Secured PDF Outputs
Images, Text, Graphics, Tabular Data
Disclaimers, Forms, Contacts
Corporate and Advisor Co-Branding
Overviews & Concept Explanations
Plan Parameters
Census Summary & Detail Data
Costs & Benefits
Analysis of Insurance
Analysis of Annuities
Retirement Rollout Scenario
Tax Implications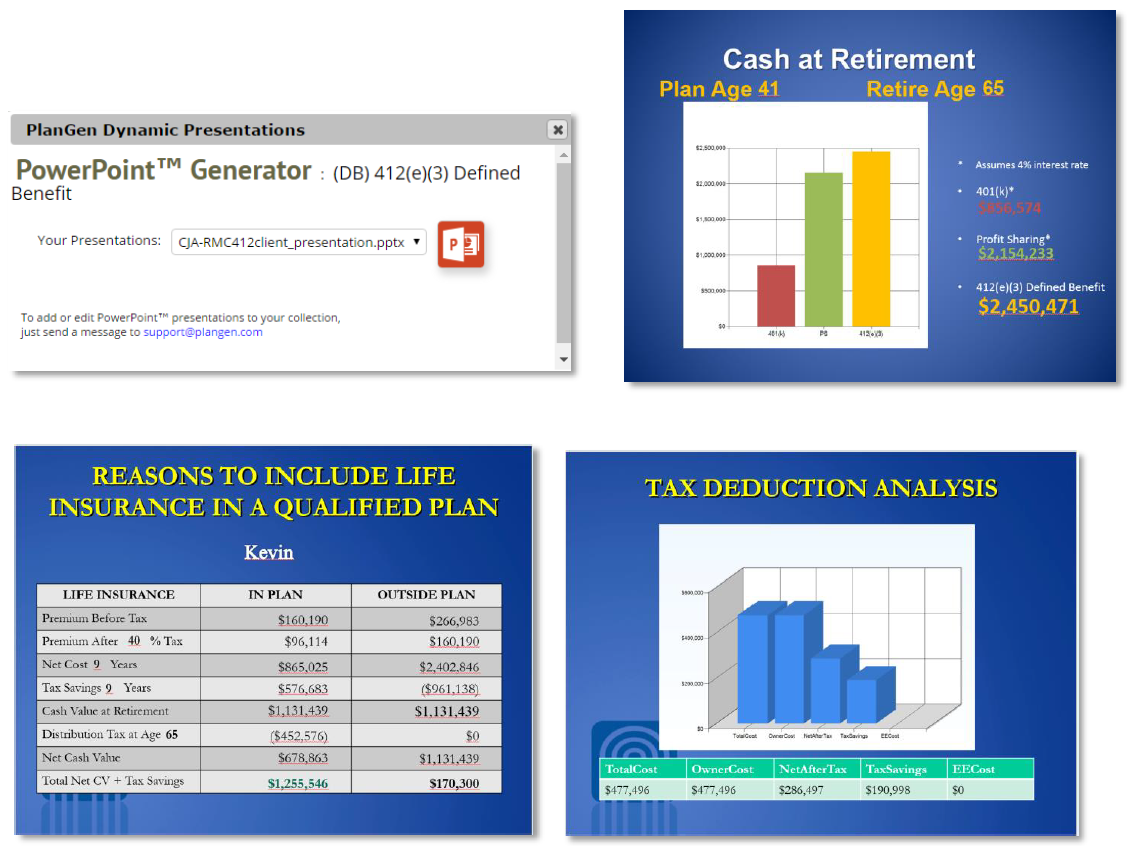 Instant PowerPoint Presentations
Dynamic Case Data In Each Presentation
Custom Presentation Collections
Corporate Branding
Multi Lingual Presentation Storage
Instant PowerPoint Presentation Output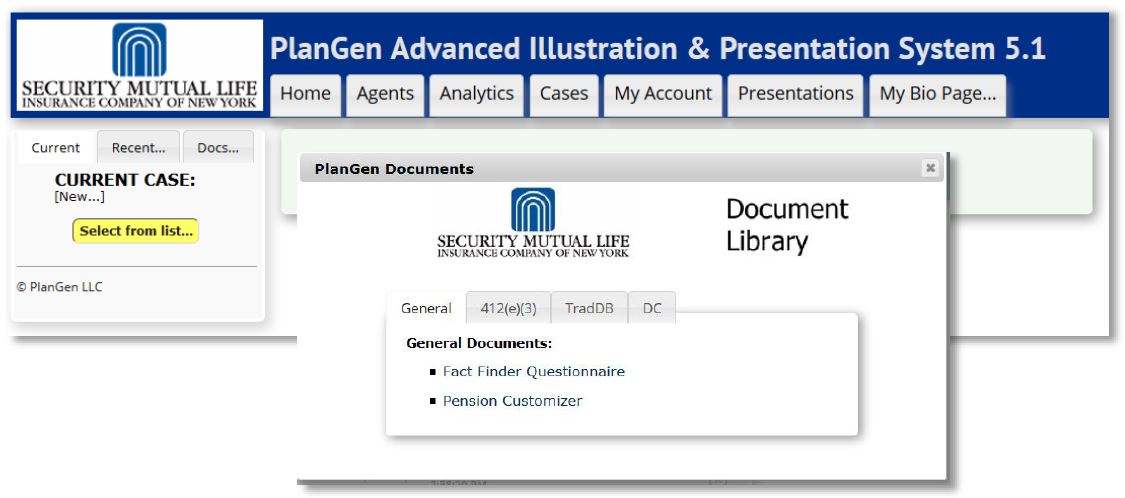 Custom Document Repository
Educational Material Library
Instant Downloads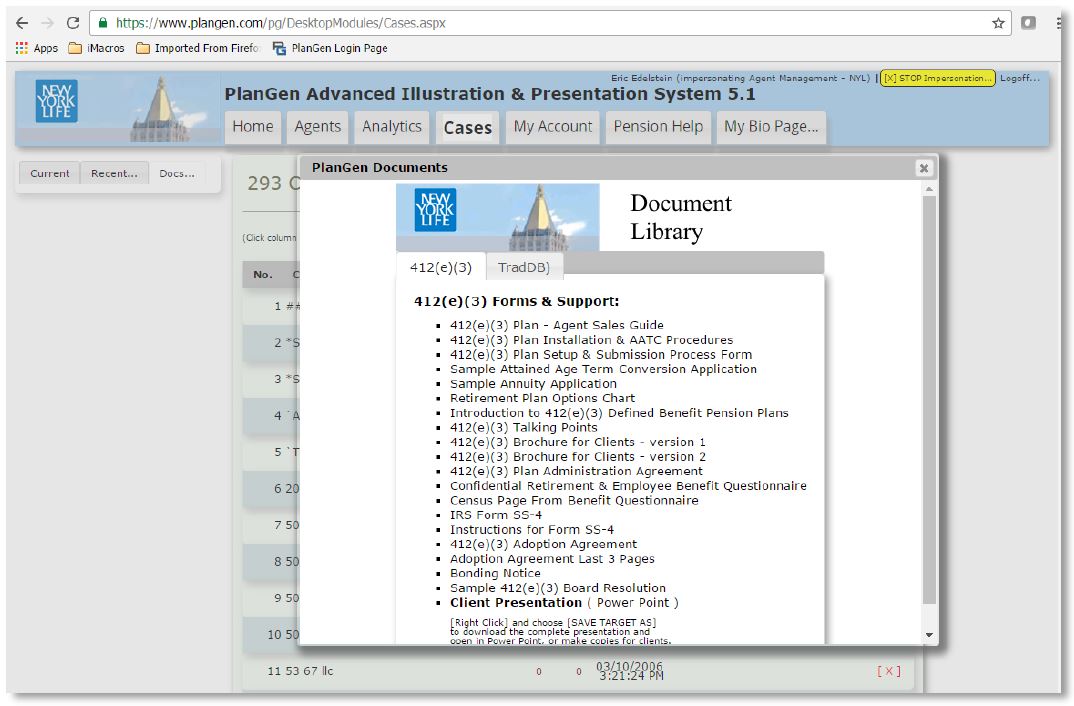 Forms & Document Collections
Forms
Brochures
Samples & Examples
Multiple File Types (.doc. .xlsx, .pdf, .jpg..etc.)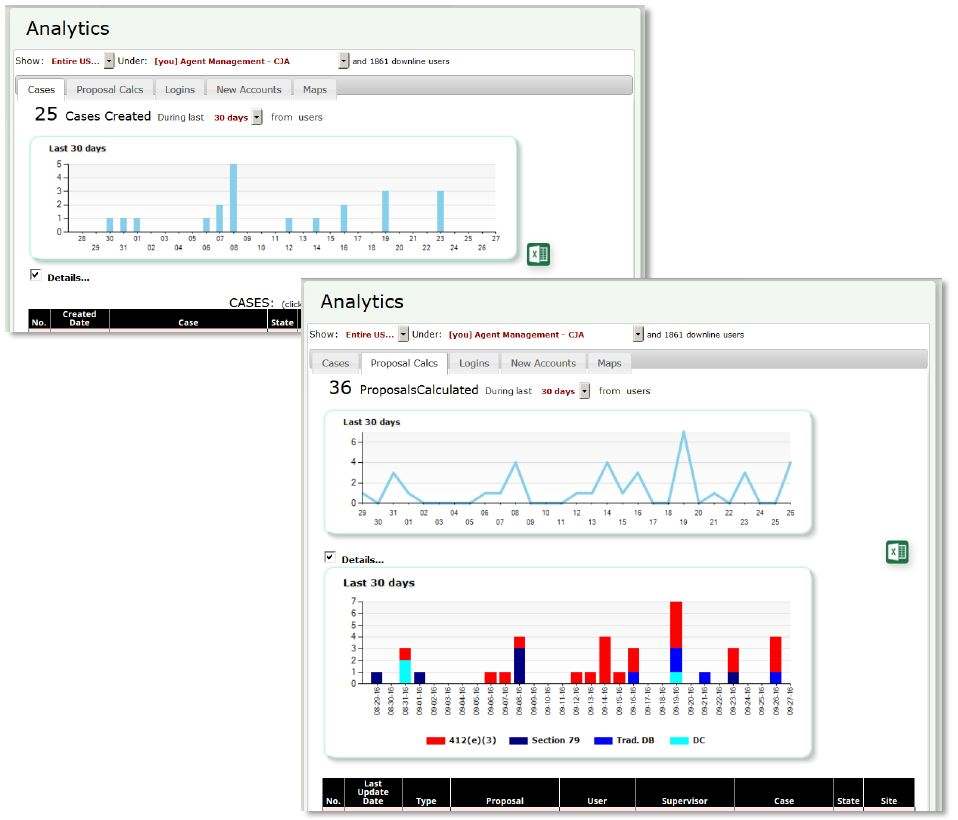 Case Statistics By Site and User
Proposal Activity By Time Period
Proposal Activity By Type & User
Export data to Excel
WHERE are your users?
WHERE are your cases?
WHAT are agent and case densities by location?
Designated Market Area (DMA) Geography
Export data to Excel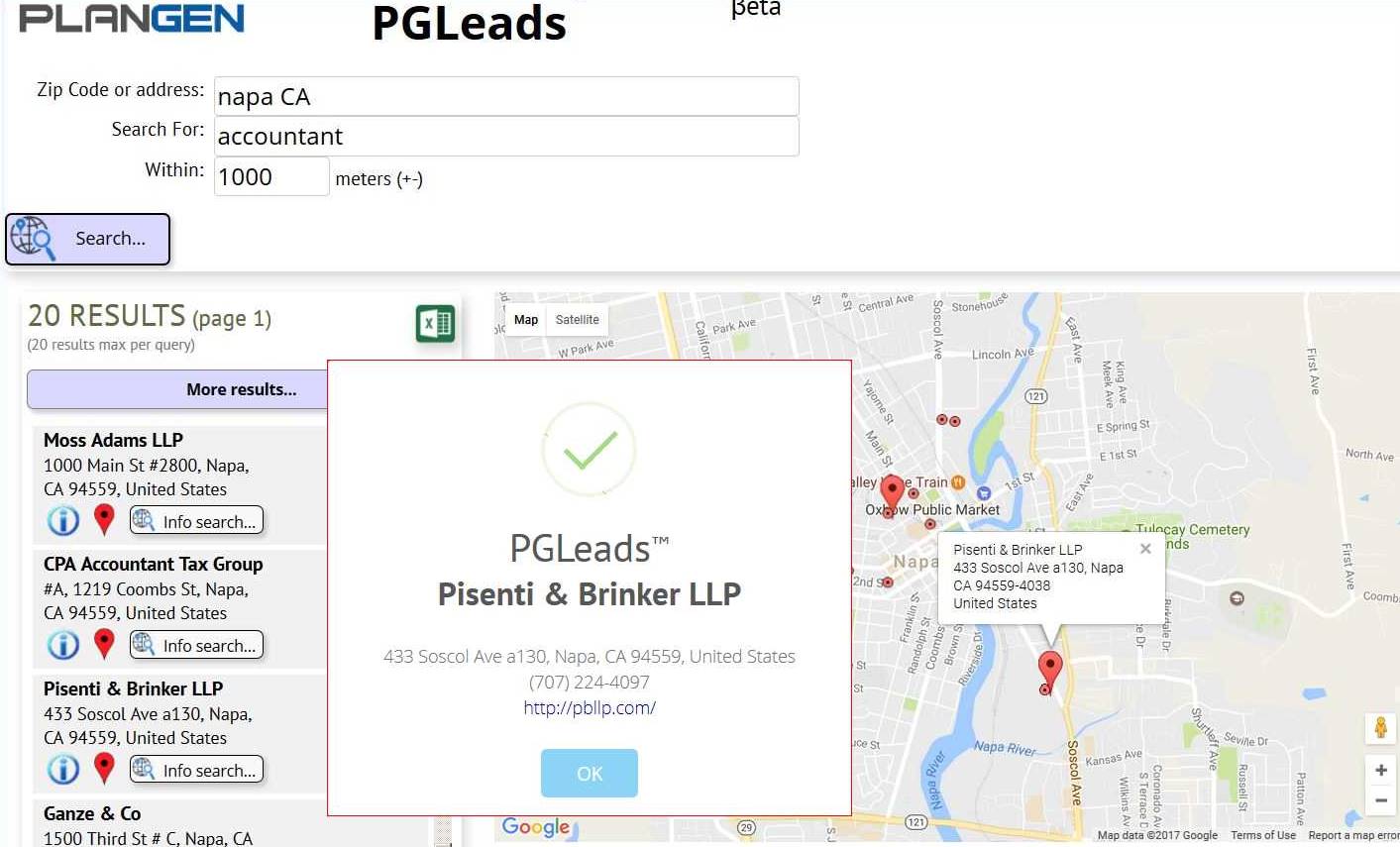 Exclusive: Export Excel Lists Of Search Results
Google Maps Search By Zip, Topic, Radius
Geographic Locations & Lists of Potential Clients
One-Click, Deeper Google Search of Result Items
Use Lists in Mailing Campaigns, Market Research
Professional Advisor
Directories
Corporate Branded & Linkable Web Resource
Advisor Branded Logos & Photo Upload
Contact Information
Searchable, Sortable
SEO-Friendly URL and Content
Links to Advisor Bio Pages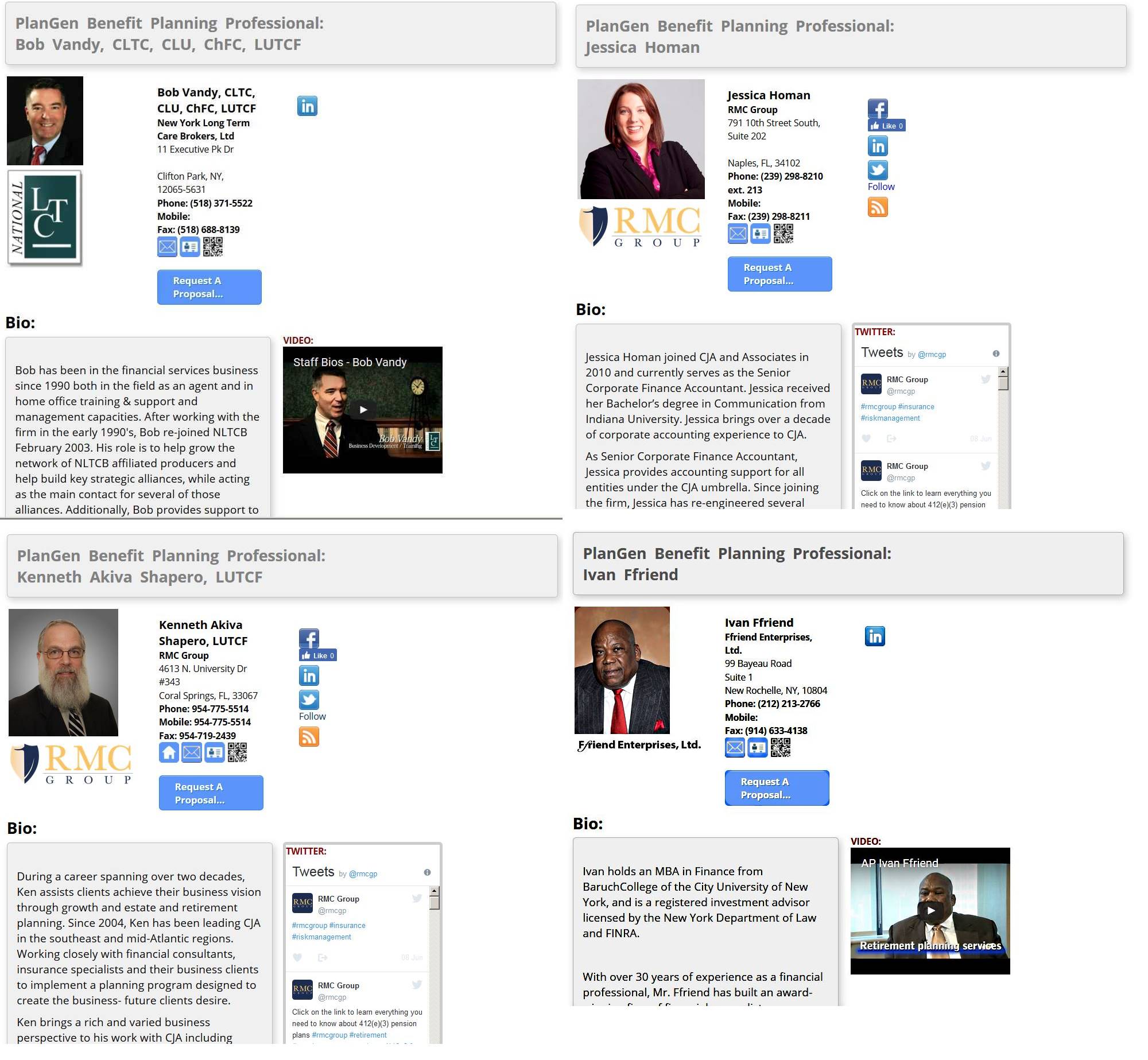 SEO-Optimized Contact Information
Electronic Request-For-Proposals Directly Into PlanGen
Social Media Feeds and Linkages
Resume - CV Biography Sections
Video Links
Resource Links
User-Editable
Dept. of Labor
Fiduciary Responsiblity Checklist
Customizable DOL Fiduciary Responsibility Task List
Real-Time Percent-Complete Display Integrated Into Case Lists
Detailed Audit-Trail With Unlimited Number of Notes-Per-Task
Participant Census List With Unlimited Notes-Per-Participant
Custom Info Links To Resource Websites, Files...etc.
Output Report Instantly To PDF, Excel, Printer...At Any Time
So many more capabilities to see...